Hypnosis In Perth for Lack of Motivation With Jacqui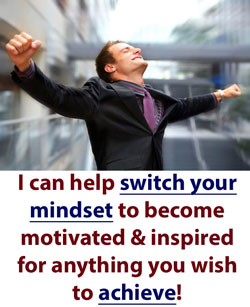 Are you lacking enthusiasm or drive?
Is laziness holding you back from your full potential?
Are you under-achieving because you lack the motivation to get it done?
If any of these apply to you, hypnosis is exactly what you need! Whether it be motivation for your work, career, goals, family, chores, fitness - anything at all - I can help. In fact improving motivation is one of the most simple things to accomplish using hypnotherapy.
Become More Motivated For Any Purpose/s!
If you are lacking motivation in any area of your life, hypnosis can help. By transforming the way you think, you can transform the way you act on an instinctual level. Through hypnosis we can override the processes that cause lack of motivation, replacing them with automatic processes towards getting things done. Some examples of the most common motivational issues I treat are...
Career/work
Social activities
Fitness/exercise
Personal goals
Business projects
Chores/housework
Expanding your skills
Learning something new
Schoolwork
Following through on things
How Does Hypnotherapy Help?
In hypnosis we can alter the inner processes of the mind. So basically it is all about 'in with the new' - 'out with the old'. When you see me we will discuss your exact problem, possible causes, and patterns etc. - and I will personalise your session according to this. Through the power of suggestion and metaphor under trance, we can begin to make some profound changes to address any type of motivation issue. Some of the things I cover during the hypnosis session are...
Increasing your energy levels & concentration
Removing any emotional/mental blockages that are holding you back
Helping set your goals and giving you an insatiable drive to achieve them
Replacing laziness or inactivity with an action mindset - easily & automatically
Using post-hypnotic suggestion to always remain motivated & driven
How Does it Work?
The first thing is to contact me and we will book in a hypnosis session for you. Motivational issues generally only take 1 or 2 sessions to address, and most people achieve their desired level of change after the 1st session.
During each session I will guide you into a nice comfortable state of hypnosis and make necessary suggestions & empowerment techniques to help you improve your motivation levels. At the end of the session I will take you out of hypnosis and you will be left feeling calm, relaxed and on top of the world. I will give you some programs to take home to reinforce the changes.
One of Many Success Stories...
"* Hi Jacqui, Before I came to you I was lacking in self esteem, self confidence, self love and feeling down in general but after one session of hypnotherapy my life has certainly improved. I came away feeling energised and over the next few weeks I went shopping for shoes and a handbag, had my hair done and made a doctor's appointment I had been putting off. All of these may seem trivial to anyone else but to me they were things that didn't came easily."
* Results may vary from person to person.