Reiki Treatment in Perth With Jacqui Dornan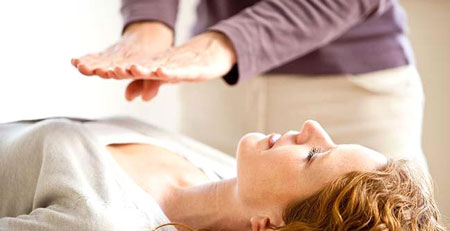 Reiki is one of the most popular natural therapies in use today.
Jacqui is a qualified Reiki master who has helped many clients with this powerful healing modality. She offers personal Reiki treatments in Perth, Western Australia, as well as by appointment in New Zealand when she travels there. Jacqui has used Reiki to help her many clients with issues including stress relief, sleeping problems, pain management, injury recovery, addictions and a whole variety of other emotional & physical problems.
Official Qualifications: Completed Reiki Usui Shiki Ryoho First and second degree in Usui System of Natural Healing 14 June 2008 Mr P Bellion Reiki & Seichim Master
Rate: Jacqui's standard rate for Reiki is $90 for 1 hour.
A Caring & Personal Approach...
A very caring person at heart, Jacqui's kind personality and gentle energy lends itself well to performing this kind of work. She has a genuine compassion for all of her clients which you will notice as soon as you meet her. A typical session with Jacqui involves not only performing reiki, but also getting to know you and what is exactly causing your issue/s. This helps her develop a unique approach just for you so that you get the results that you are looking for.
What is Reiki?
Reiki involves lying on a table and the practitioner placing their hands on or just above your head and torso. This is know as the 'layering of hands' and is a type of energy healing. What takes place between the trained practitioner and client is called 'Universal Light Energy'. Participating in this you will feel a wave of relaxation overwhelm all parts of your mind and body. This has the effect of balancing your body's energy systems which can be useful to initiate both emotional and physical healing. Reiki was originally developed by Dr Mikao Usui - a Japanese healer in 1922, and has since grown to become one of the most popular natural therapies used today.
How Does Reiki Work?
Reiki heals by flowing through the affected parts of the energy field and charging them with positive energy relieving physical and emotional blockages. It raises the vibratory level of the energy field in and around the physical body where negative thoughts and feelings are attached. Reiki clears, straightens and heals the energy pathways, thus allowing the life force to flow in a healthy and natural way.
What is life force?
Life force flows within the physical body through pathways called chakras, meridians and nadis. It also flows around us in a field of energy called the aura. Life force nourishes the organs and cells of the body, supporting them in their vital functions. When this flow of life force is disrupted, it causes diminished function on one or more of the organs and tissues of the physical body.
How Long Is A Session?
It varies from client to client depending on the persons needs. A standard session may take from 30 mins – 1 hour. It all depends on what you require. Reiki can be used in conjunction with any standard medical procedures and religious beliefs without conflict.
Can Reiki Be Used On Animals?
Yes. Animals not only benefit from Reiki, they love it no matter what their shape or size. Some animals may become discontented with the energy and even move away. As they become more used to it they usually become like a sponge and soak up as much as they can get.
Using Reiki With Hypnosis & Other Modalities
Jacqui's extensive experience and qualifications in hypnotherapy as well as TFT, and Mesmerism, allows her to offer a truly holistic experience for each client. By combining use of these disciplines either together or seperately, Jacqui is able to develop a unique treatment to best suit your individual needs. Utilising a a complete mind, body & soul approach can bring about some truly amazing results for almost any type of issue. This 'combination' effect is particularly useful for physical problems, but is also dually effective when used for emotional issues like stress, confidence, sleep problems etc. as well.
Client Testimonial
Dear Jacqui,
I visited you last Thurs for a reiki session. In the days following it has been interesting. I remember you telling me to put my hand on a area for healing, the next morning I put my hands together and asked for love and healing and that was the start of my reiki sessions every morning since I visited you mostly lasting 1 and a half hours. Day 1 and 4 have been my intense days. On two of the days the treatment has continued during the course of the day, today is one of those days. The first few days concentrated on my body and now mainly on my left arm. I have also received several messages during this period. I feel overall more lighter and I'm needing less pain tablets. Thank you for your help it has been extraordinary. I will plan another visit sometime in the future. Kindest Regards,
Cost & Booking Details
Jacqui's standard rate for Reiki is:
Initial consultation: $90 (1 hour duration please allow upto 1hr 15mins in total)
She sees clients from her central Perth clinic (address provided upon contact)
Address: Hillarys (Perth, Western Australia)
Phone: 0449 802 972 (Mobile)