About Jacqui Dornan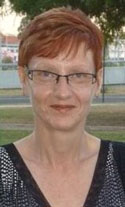 Jacqui has been practicing hypnotherapy since 2008 when she completed her training through the Australian Academy of Hypnosis. Since than she has devoted her career towards helping people overcome their obstacles and achieve their goals with great success.
As a naturally caring person Jacqui has helped many people with all types of issues through her unique methods incorporating hypnosis and other healing modalities. Jacqui sees clients from her 2 central Perth clinics as well as by appointment in New Zealand.
---
Hypnosis Qualifications
Cert. Power Hypnosis - Oct 2008 & Nov 2009
Cert. Hypnosis - March 2008
Cert. Hypnotic fascination - May 2009
Cert. Weight Loss and Management - Apr 2010
Cert. Mesmerism & Hypnotic Fascination - Apr 2010
Cert. Advanced Mind Dynamics - July 2009
Cert. Cessation of Smoking - Apr 2010
Cert. Advanced Hypnosis - Dec 2011
PHA Basic Counselling & Psychology Course - June 14, 2014
Other Qualifications
Reiki 1-2
Thought Field Therapy - 'tapping'
Campanelli Mesmerism for treatment of cigarette smoking & addictions
Cert. Magentista Emeritus (Mesmerism) - Dr. Marco Paret
---
Media/Publicity
Southlands Express Newspaper - New Zealand
Jacqui was featured in the 'Career Profile' section - click below to read full article.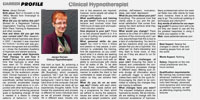 Join Jacqui On Social Media