Hypnotherapy for Stress in Perth - Easy, Fast & Effective!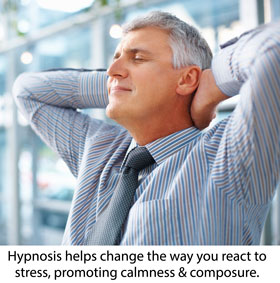 So you have a problem with stress... ? Let me start by saying that this is one of those concerns that many individuals experience in daily life. I have helped many of my clients with these issues, and usually it only take one or two sessions to do so. Whether you are mildly affected by work/financial/relationship/fear-based stress, or have an acute level of clinically diagnosed stress, hypnosis is beneficial when dealing with these issues.
How Does it Work?
Having identified the problem, the next step is to contact me and book in a private session in either the Hillary's or Perth clinic. I will take you through a 'one on one' hypnotherapy session, helping you put in place improved processes to deal with stress. Under hypnosis I will use suggestion, metaphor & relaxation techniques that will empower you on a deeper level to counteract the negative effects of stress. This is very effective because the changes I help you make are on a subconscious level through cognitive reprogramming and this means your results are usually permanent after 1, 2 or 3 sessions with me.
What Happens During Hypnosis?
If you would like a detailed explanation of this, please read a blog I posted on What Happens When We Go Into Hypnosis? In summary, when you enter hypnosis, you will become deeply relaxed, as your conscious mind switches off and your subconscious becomes more receptive. Any stressful thoughts you come in with will automatically subside during and after the session. This is very beneficial for dealing with stress as it helps you find new ways of becoming relaxed and switching off all those 'unwanted' conscious thoughts that keep you up at night or worried during the day.
What You Can Expect...
After the first session you will feel noticeably more calm, relaxed and composed, and that is just after the actual hypnosis. In the ensuing weeks you should find it much easier to deal with stressful thoughts & have greater control over the level to which they affect you. In addition you will find sleeping becomes easier, dealing with pressure becomes easier, and an improvement in your overall outlook towards life in general. If you feel the effect is not strong enough, simply call me up and book in another session. Usually it takes no more than 3 sessions to achieve the result you are looking for.
After the first session, my follow up rates are significantly reduced for all of my clients.
Treating Stress & Related Conditions
Stress can lead to many other related problems if not prevented! It is directly linked to the following conditions which I can help treat/prevent in adjunct with your stress management session. At the start of your first appointment I will go through this with you and find out your specific concerns, using this information to adapt the treatment specifically for your needs.
Hypertension & blood pressure
Gastro intestinal problems such as ulcers
Panic attacks, Anxiety or PTSD
Eczema or acne
Headaches or nausea
Drug/alcohol/cigarette addiction
One of Many Success Stories...
* Having struggled with psychological issues most of my life followed by physical issues I'd tried various therapies & spent thousands of $'s mostly with little to no success. Tried hypnosis again only after hearing a little of another ladies experience with Jacqui so was hopeful yet still dubious I'd be able to experience any kind of change even if it 'worked' for me.
There have been subtle shifts since seeing Jacqui & when I say subtle I mean some negative thought processes appear to have changed with the positive changes seeming quite normal so that they may easily be overlooked. In that regard they are actually pretty big changes and my outlook has been more positive and optimistic too. Am pretty impressed since this is after 1 session nearly 4 weeks ago where I was hopeful but not expecting very much at all. Many, many thanks Jacqui!
* Results may vary from person to person.