Sugar Habit Treatment With Hypnosis in Perth
Jacqui is a Licensed Hypnotherapist Providing An Effective Way to Minimise Sugar in Your Diet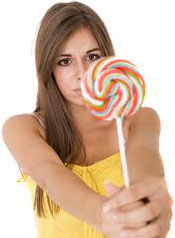 Like all other habits, hypnotherapy is a great way to help you overcome sugar dependence. I have helped numerous clients with this issue throughout my career as a hypnotherapist, especially in the last couple of years when this problem has grown to epidemic proportions. Removing excessive sugar from your diet is so beneficial to all parts of your health - both mentally as well as physically. Contact me today to find out more about how I can make this happen.
How Can Hypnosis Help Stop Sugar Habit?
Put simply, hypnosis can help you automatically override the desire for sugary foods and make it easier for you to simply be more aware of keeping a healthy diet. This happens under trance through direct suggestions and metaphors to instigate new patterns at the deepest level towards what foods you eat. These new patterns become embedded at a subconscious level through hypnotherapy, therefore making the changes fast, easier and permanent.
Sugar intake actually releases dopamine into the brain causing feelings of heightened wellbeing. It also builds up a physical dependency in your body. This is the physical part of the habit. Then there are the routines that we all create to satisfy these urges like those 3 cups of coffee with sugar in the morning, or a sweet for morning tea, or the many soft drinks throughout the day etc. Before your first hypnosis session with me I will ask about all your own unique routines and issues so I can customize your session exactly to your needs. Doing this I will be able to use hypnosis to override the exact causes and responses of your issues by creating new routines and awareness. This is very effective and you will notice results often straight away.
Benefits For Your Physical & Mental Health
Lowering sugar intake to recommended levels will help you with so many things. Physically speaking you can expect to be much more healthier, control any weight issues, reduce the risk of illnesses like Diabetes and have better immune system functioning. Mentally you can expect to sleep better, have less stress, more balanced energy, sustained motivation and a more calm state of mind in general.
How Does it Work?
The first thing to do is contact Jacqui and organise to book in a session with her. During this she will explain to you how it all works, what to expect, and then perform the hypnosis session with you. She will guide you into hypnosis and help you start making the necessary changes to your subconscious mind to give the mechanisms to move beyond your sugar habit. For more information on costs and booking info please click here.
Client Testimonial...
"* I am a Type 1 insulin dependant diabetic, who unfortunately had a VERY sweet tooth that was way out of control. I was eating chocolate, biscuits and cake almost constantly, resulting in very unstable Blood Glucose Levels. I had my first appointment with Jacqui nearly 3 months ago and haven't touched a biscuit, cake or chocolate since nor am I even tempted to! And an even better outcome is that I have cut my insulin use by nearly half, (with my Drs approval) and my BGLs are stable. I think one of my biggest problems was that I had no willpower to stop (and that Coles always had half price chocolate bars). So I would definately reccommend Jacqui to anyone with similar problems. Thank You Jacqui so much"
- CB
* Results may vary from person to person.